Meet our partner: Kevin Maresca from Pfizer
Kevin Maresca works in Early Clinical Development within Pfizer's Worldwide Research, Development and Medical (WRDM) organization. He is head of PET/Molecular Imaging within the Digital Medicine and Translational Imaging group. We talked with Kevin about the role of Pfizer and its added value in the Immune-Image project.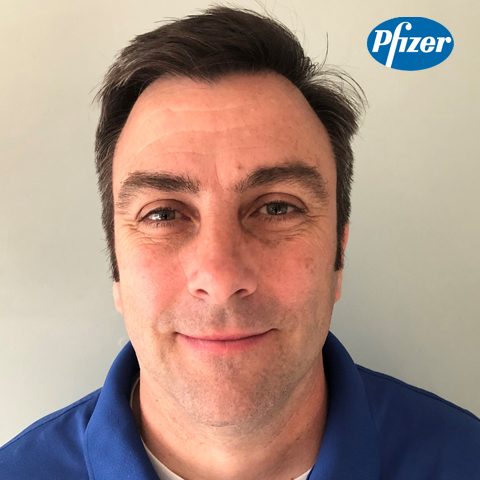 Can you tell us a little bit about the history, goals and strategy of Pfizer?
"Pfizer has a long history – more than 170 years – of advancing scientific and medical innovation, a goal which continues to drive everything we do. Our purpose – Breakthroughs that change patients' lives – reflects our belief in the transformative power of science and the value we can deliver for patients. We are guided by five "bold moves" that help us unite the power of our people with cutting-edge science and technology to achieve this purpose. Our collaboration on the Innovative Medicines Initiative's Immune-Image project is one example of this combination at work, contributing to non-invasive clinical imaging of immune cells with the goal of enhancing scientific and clinical understanding of certain cancers and inflammatory diseases, to potentially achieve better health outcomes for patients."
How did Pfizer get involved in the Immune-Image project?
"Pfizer has a longstanding interest in molecular imaging of immune cells and their environment, which could potentially provide patient stratification based on immune status, prediction of response, and individualized/optimized dose selection. Through such European public-private partnerships, we hope to contribute toward the consortium's common goal of achieving a better understanding of immune-mediated diseases through "Immune Imaging," which, if successful, may translate to better treatment response and progress monitoring for patients across the globe."
How do you see the added value of Pfizer in the Immune-Image project?
"We are proud to bring our experience with novel PET tracer development, as well as our expansive knowledge of animal models and therapeutic compounds to this project. We are combining our skills and knowledge with those of our fellow collaborators, contributing to our shared goal of advancing the development of personalized immunotherapies."
What exactly does Pfizer do in relation to the Immune-Image project?
"We are involved in multiple workstreams within the Immune-Image project, contributing to the optimization and qualification of the novel PET tracers. In addition, we are sharing our extensive experience to help define the selection criteria for novel PET tracers advancing to the clinical assessment stage.  Lastly, we have a keen interest in the clinical applications of WP6."
There are many consortia and scientific projects Pfizer can be a part of. How do you select the one you would like to set up a partnership with?
"Pfizer has been involved in the Innovative Medicines Initiative since its inception in 2008 and has joined over seventy separate IMI consortia projects in that time.  We look for projects which we believe, (i) have strong scientific, technical or social merit, (ii) have close alignment with Pfizer's focus areas and activities (iii) have the potential to deliver significant advances for life-sciences research and the medical ecosystem to potentially benefit patients."
What is something you are proud of in this project?
"The coming together of more than 20 institutions to share ideas, knowledge, and data for a common goal in a supportive environment. This collaborative environment is essential for developing scientists in the field. We are excited by the potential of developing novel PET tracers, which could impact research of new immune modulating medicines by lending molecular insights into the biological processes."
Is there anything you would like to say to the consortium members?
"We at Pfizer are very appreciative to be a member and grateful of everyone's hard work in addressing the challenges of immune imaging."
 Want to stay up to date about the the partners in the Immune-Image project? Subscribe to our newsletter! деньги в долг по паспорту