Meet the partner: Lygature
Within Immune-Image, Lygature co-leads the data management work package, WP2, taking overall responsibility for the timely delivery of the deliverables and milestones in the various subtasks and the creation and execution of the data management plan. It is Lygature's role to ensure that data produced in Immune-Image is made available to all project partners in a secure and efficient manner. We talked with Jan-Willem Boiten and Robin Verjans about their role in the project.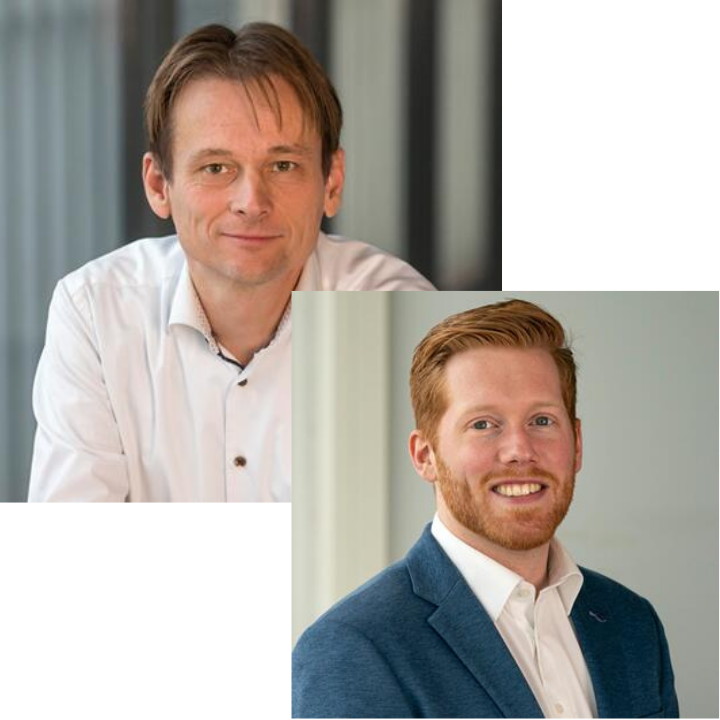 Can you tell us a little bit about the history, goals and strategy of Lygature?
At Lygature, we believe the complex health challenges facing today's world can only be solved by close collaboration between academics, entrepreneurs, governments, and society at large. What lies beyond the power of individual innovators can be achieved through partnerships. We are an independent partnership management organization, and we function as an enabler for large multistakeholder partnerships in the life sciences.
Lygature aims to accelerate the development of new medical solutions for patients by driving public-private collaboration between academia, industry, and society. We are a not-for-profit organization that enables, drives, and supports partnerships to address unmet medical needs.
Lygature has been pioneering medicine together for more than 15 years. Top-Institute Pharma (TI Pharma) was launched in 2007 as the first life sciences 'top institute' in the Netherlands, (co-funded from the proceeds of Dutch natural gas resources through the Fund for Economic Structure reinforcement (FES). Lygature was created in 2015 from the merger of the Center for Translational Molecular Medicine (CTMM) and TI Pharma to help preserve the expertise built up over many years, and to support new large Dutch or European initiatives. We currently provide partnership management services to >20 projects where we work together with >100 partners.
How did Lygature get involved in the Immune-Image project?
There were pre-existing collaborations with the Immune-Image partners in Groningen and Amsterdam in which the data management activities were supported by services from TraIT. Building onto these previous successful collaborations, Lygature was asked to join the consortium.
How do you see the added value of Lygature in the Immune-Image project?
We have no objective of performing research ourselves. Instead, our only aim is to enable the research of others, i.e., the Immune-Image partners. In our view that makes us an excellent partner for the role we have: creating the conditions for optimal data sharing between all partners in a public-private partnerships. Our role as data sharing-enabler can add great value to projects like Immune-Image, in which 22 organizations from across the world (including academia and industry) are collaborating to achieve a common goal.
What exactly does Lygature do in relation to the Immune-Image project?
For the Immune-Image project, trials with immunotracers in patients with cancer and inflammatory disease are being performed across the world by 22 different organizations for 5 years. Lygature is in the lead for the solutions to store, share and analysis the data within this international consortium. Our experience in providing fit-for-purpose FAIR (Findable, Accessible, Interoperable, Reusable) data solutions enables us to develop an infrastructure that facilitates management, coordination, collection, and sharing of multi-center (clinical) research data in a harmonized and optimized way.
We are responsible for the implementation and proper use of various tools to facilitate this. For example, the XNAT tool is an open-source imaging informatics platform to allow all clinical studies to archive, view, and analyze their clinical imaging data in a harmonized way.
Another example: within the Immune-Image consortium, samples from patients will be stored locally in the various institutes across the world, while use of these ample should be possible across all participating organizations.  We are currently implementing a so-called Biobank Catalogue. This searchable database helps researchers to find bio sample and data collections within the Immune-Image consortium to enable collaborations to perform further research.
There are many consortia and scientific projects Lygature can be a part of. How do you select the one you would like to set up a partnership with?
That is an excellent question which is not that easy to answer. Many factors play a role: first of all, whether there is a fit with our expertise, but also whether a project has an appealing scientific challenge, whether we believe in the project partners and their collaborations, and of course also our assessment of the chance of success for the project proposal.
What is something you are proud of in this project?
We are proud of the fact that we facilitate researchers across the world to develop novel strategies to diagnose or monitor the effect of therapy in patients with cancer or inflammatory disease.
About Jan-Willem Boiten and Robin Verjans
Jan-Willem Boiten (PhD chemistry) is an experienced program manager at Lygature leading, in particular, large collaborations in the area of health research data management. In the Netherlands he was involved in setting up TraIT (Translational Research IT), a national IT platform to support biomarker discovery projects which was used by 4,000 researchers originating from over 400 projects, which has now resulted in Health-RI, the overarching national collaboration on sharing of health data. In the past, Jan-Willem had various research informatics management roles in the pharmaceutical industry.
Robin Verjans obtained his PhD in experimental cardiology at the department of Cardiology at the Cardiovascular Research Institute Maastricht. His interest in cardiovascular pathophysiology has brought him to establish collaborations across Europe to carry out his research in both academic institutes as well as biotech companies. In March 2020, Robin started working for Lygature as a program manager in various projects.
Want to stay up to date about the Immune-Image project? Subscribe to our newsletter!